Pledged by match4mission:
The military coup that overthrew the democratically elected government in Myanmar on 1st Feb 2021 is still being fought over. What started as street protests in the cities has now spread across the country and is descending into civil war. Ethnic minorities have taken up arms to fight the central government army. As a result, thousands of civilians had to flee their villages as the troops of the military regime invades, loots, and then burns down all the villages in its path. In Karen State alone there are an estimated 30,000 people who had to flee into the jungle, where they now live a precarious existence lacking all basic necessities of life.
Pastor Shine Lin comes from Myanmar but leads a church in the Thai border town of Mae Sot. He has access to many of the refugees and internally displaced people. He and his team help where they can, but are overwhelmed with the level and amount of suffering they witness.
We want to help where we can, and are grateful for any donation you can make. We've known Pastor Shine Lin personally for many years, and can vouch for his godliness and integrity. Furthermore, a well-known missionary society endorses this project and has agreed to channel the funds we collect to Sine Lin, and through him to those most need assistance.
Considering the urgency of the situation, we are aiming at an initial collection of £5,000, then see how this goes and how the situation on the ground develops.
Thank you for your generosity if you choose to donate towards the project.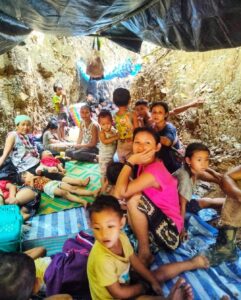 Make a donation to this project
Breakdown of total project cost
| Cost of individual items | Cost |
| --- | --- |
| 5kg rice | £2.00 |
| 12 bottles oil | £8.00 |
| Tarpaulin | £3.50 |
| Torch | £3.00 |
| Hammock | £4.50 |
| Mosquito net | £3.00 |